Malfy Gin: When Life Hands You Lemons and Liquor
Isn't it bizarre that just about everything coming out of Italy is (a) tantalizingly tasty, (b) simplistically sophisticated, and (c) absolutely amazing? Okay, so those alliterative adjectives (oops, I did it again!) may be loaded claims, but I'm 100% confident I can substantiate them. My latest discovery, Malfy Gin, will appeal not only to the spirits aficionado, but also to the refined gourmet who demands a product backstory complete with family, terroir, and a scrupulous labor of love.
Gigino the Flying Farmer, so dubbed because of his nimble movements in the orchard, is 83 years old. But that doesn't stop him from tending his ancestral lemon groves as though he were a spritely man of 20. Proud to have been conceived under a lemon tree, Gigino jokes that he has the fruit juice coursing through his veins. His lemons, called "sfusato amalfitano" because of their spindle-like, tapered ends, are grown nowhere else in the world but Amalfi. Thanks to a unique micro-climate scaling a 20-mile strip along the Italian coast, these intrinsically organic lemons are prized for their delicate sweetness and wafting aroma. Nearly two-thirds of Gigino's yield goes to fresh produce markets and ice cream makers, while the balance is used for limoncello and – you guessed it – gin!
Gigino Aceto struggles to perpetuate his family's tradition of lemon cultivation in Amalfi, Italy
(photo credit: Gianni Cipriano for The New York Times)
Who would have ever thought that these lemons are not only saving the Amalfi Coast from ecological disaster – abandoned farms lead to increased mudslides – but also bestowing their zest upon a liquor predominantly derived from juniper berries?
Rewind to the 11th century, when monks along the Salerno Coast in Italy experimented with ginepro (juniper) and other botanicals, effectively inventing gin.
A century prior, Arab traders brought citrus to Amalfi, which then functioned as a maritime republic and gateway to the entire European mainland. Visitors today delight in the sight of citrus in Italy, because the bright fruit animates the verdant landscape and serves as tiny emblems of the radiant sun on earth.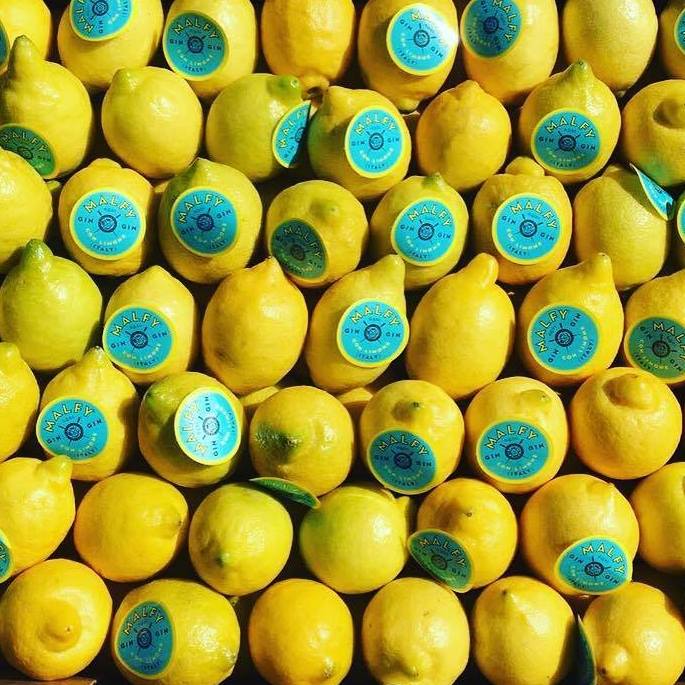 Arab traders are credited with having brought lemons to Italy (photo source: Twitter)
The Vergnano family—Carlo, Piera, and their children Rita and Valter—wanted to bottle up that sunshine in drinkable format, so they opened a distillery in Moncalieri, just outside of Turin. Torino Distillati employs master distillers Beppe Ronco and Denis Muni. The former, who is trained in enology and distillation, can often be found climbing Monviso, the highest source of any spring in Italy whose pure water forms the base of Malfy Gin. In fact, the bottle itself is a tribute to Monviso, its blue bottom inspired by the mountain lakes and the label colors reflecting the snow-capped peak.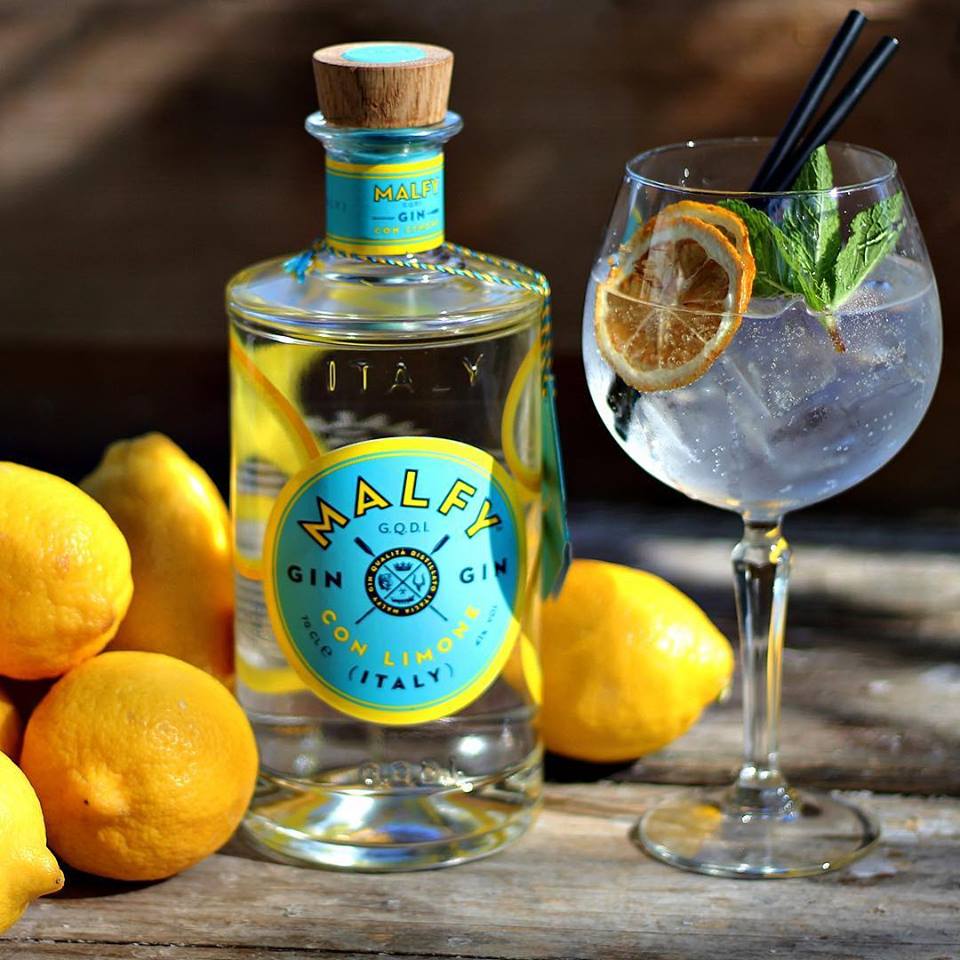 The Vergnano family sources Amalfi lemons ("sfusato amalfitano") to produce Malfy Gin
(photo source: Twitter.com)
Malfy Gin fuses Italian juniper and five other botanicals, including coriander, angelica, and cassia bark, to form four distinct varieties: Originale (Original), Limone (Lemon), Rosa (Sicilian Pink Grapefruit), and Arancia (Sicilian Blood Orange). The makers insist it is perfect on the rocks, in a gin and tonic, or with your favorite Italian cocktail, whether Negroni or Martini.
Malfy Gin comes in four varieties: Originale, Con Limone, Gin Rosa, and Con Arancia
But most importantly, make sure you're enjoying it in an idyllic setting: relaxing on a sun-flooded terrace, admiring the view, and partaking in "dolce far niente," or the sweet art of doing nothing.
We Lebanese are adept at that. After all, if any people closely resemble the Italians in their joie de vivre and laissez-faire approach to life, it's us. So let's toast to that major honor with Malfy Gin, available as of this weekend exclusively at Wesley's Wholesale in Hazmieh – Orange Label.
Don't forget to garnish your glass with a sprig of fresh thyme. Because the only thing better than Italian is Italian with a Lebanese twist!
Malfy Gin garnished with thyme (photo source: Pinterest)
Beirutista is Brand Ambassador at Wesley's Wholesale. What exactly does that mean? Well, if you liked this post, you can look forward to similar ones every month or so. I'll be blogging about a variety of exciting new projects Wesley's has underway, in addition to sneak peeks and product leaks! Expect cool new product giveaways from time to time, and if you're a real Wesley's obsessive like I am, I'll gladly hook you up with 10% off your next visit. Just shoot me a message at any one of my contact coordinates here.