Who is Rouba Saadeh? The Scoop on the Lebanese Lady Who Pinned Down "365 Days" Italian Actor Michele Morrone
If you're a regular Netflix viewer – who isn't during these times of quarantine? – you'll likely have stumbled upon the June 2020 release, "
365 Days
.
" In fact, the erotic Polish drama, which has been compared to the trilogy of "50 Shades of Gray," occupies the number one spot on Netflix's Top Ten list. Why, you might ask, when
Rotten Tomatoes
scores it at zero and critics worldwide are discounting it as "ridiculously campy" (
Forbes
)?
Two words: Michele Morrone. I'll wait as you Google images of this godly creature, but make sure you don't stray for too long poring over his photos. Yes, he's Italian. Yes, he checks off all parameters in the "tall, dark, and handsome" descriptor. And yes, his physique conjures up a real-life Adonis with perfectly chiseled abs, toned legs, rock-hard biceps, olive-complexion skin, piercing gaze, perfectly chiseled abs…wait, did I mention that twice? Yeah, well, maybe each compartment in that six-pack (or is it 12-pack?) is worthy of individual adulation.
Italian actor Michele Morrone, whose overnight stardom can be attributed to the major success of film "365 Days" on Netflix (Photo source: medium.com via Instagram)
Boy, I sure hope my husband isn't reading this.
Back to Mr. Morrone, who plays the lead male role in a plot revolving around a wealthy mafia family leader named Massimo who kidnaps a Polish tourist (played by actress Anna-Maria Sieklucka) and gives her 365 days to fall in love with him. After some initial friction and backlash, Laura the hostage succumbs to him, and the movie then launches into scene after scene of what many consider teeters on pornography.
As you probably guessed from the general nature of this blog, this is not a movie review. I'm not here to encourage you to stream "365 Days" for your emotional well-being or cultural edification. But perhaps like every other viewer of the flick, I was curious to know whether Morrone has a life partner, and if so, who she is. Imagine my pleasant surprise when I happened upon her name, Rouba Saadeh, unequivocally of Lebanese origin!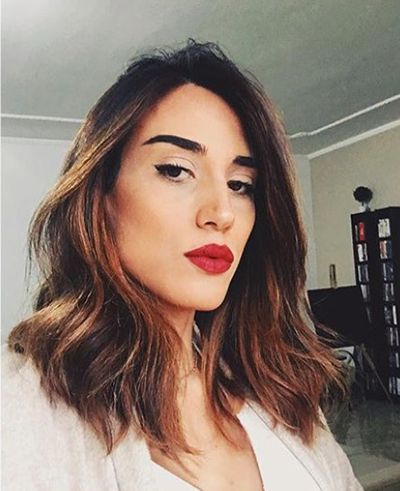 Lebanese fashion designer Rouba Saadeh, formerly wife of Italian actor Michele Morrone (Photo source: wikibio.in via Instagram)
After a bit of internet sleuthing and downright Instagram stalking, I learned that the 29-year-old Morrone was formerly married to Saadeh from 2014 to 2018 and shares two boys with her. Saadeh, who is 33 and a graduate of the Lebanese American University (L.A.U.), attended fashion design school in Milan, and we could venture to guess she crossed paths with Morrone there. Saadeh, according to her LinkedIn profile, has been employed for one year at Elie Saab fashion house in Beirut as Senior Ready-to-Wear Coordinator and has previously worked at Alfa telecom as a graphic web designer.
Her Instagram account, which is public and has quickly shot up in the volume of followers since I first discovered it two weeks ago, most recently showcases selfies on the beach (close inspection reveals she summers on weekends at the Holiday Beach in Zouk Mosbeh). It's also dotted with photos of her adorable boys, Marcus and Brando, whom she appears to be raising in Lebanon's Yarzeh area where she herself grew up.
As you start to gloss over comments from her overnight international fan base, it's evident that many want her to reunite with Morrone. To be fair, Saadeh is also easy on the eyes and fetches praise for her looks. The real mystery then unfolds: what caused the chasm between these two young lovers who are inextricably linked together eternally on account of their offspring?
Rouba Saadeh with former husband Michele Morrone and their son Marcudo (Source: Papilot.pl via Instagram)
The only clues we have are what Morrone captioned in one of his Instagram posts months ago (February 8, 2020, for reference), and that is the intense state of depression he plunged into after his divorce from Saadeh. In its wake, he sought employment as a gardener in a rural village of 1,000 inhabitants because he was virtually penniless. Along came the once-in-a-lifetime opportunity to star in a Polish drama-romance, and Morrone has since catapulted into a small-screen sensation.
Make of that what you will. The reasons for divorce are never entirely clear-cut, and they can be enigmatic to outsiders peeking in through a peephole. It's certainly not my prerogative to draw any sort of conclusion on the matter. All I can say, in genuinely good faith coupled with a tinge of humor, is very well done, Rouba, for managing to snatch up an Italian heartthrob and becoming the mother of his children. Albeit a fleeting union, know that you inspire pride and envy in countless ladies around the world, somewhat akin to that generated by Lebanese-British barrister Amal Alamuddin when she reined in the king of bachelors George Clooney in 2014.
As you continue to peruse Saadeh's Instagram profile, which retains happy family photos with Morrone and their children, you'll notice that the actor to this day comments on her posts quite consistently. The interaction between the two comes off as amicable, which suggests they have remained friendly.
I've been trying to put myself in Saadeh's shoes, that is, to navigate the feelings "365 Days" could evoke as she watches her ex-husband engage in explicitly sexual activity with another woman. This experience isn't exclusive to Saadeh, of course. Every partner of a thespian surely wades through a river of emotions when she witnesses her significant other sharing intimate moments with someone else on-screen. Movie or not, superficial or veering on reality, it cannot be easy to suppress the inescapable pangs of jealousy. We are all humans, are we not?
To that, I say, may you channel strength and an unshakable sense of self, Rouba! Bask in the limelight cast upon you, for you were no doubt there for Michele before his claim to fame, and I have a hunch you motivated him to reach beyond himself, particularly after the split.
At any rate, I assure you, we'll be probing every post, every caption, every comment, and every emoji with a magnifying glass!
XOXO, Gossip Girl, er, Beirutista
Follow me to stay up to date on the latest happenings.