Disney's Aladdin Remake Beautifully Retells the Iconic Classic
Easily the single most important movie to us kids growing up in the '90s was Disney's "Aladdin." The intriguing storyline; the incredible voices of Genie, Jafar, and Iago; the mesmerizing musical score and lyrics; the animated scenes from Agrabah; the definitive triumph of good over evil…it was spellbinding

for impressionable youngsters like me and my brothers.
We would listen day and night to the Children's Broadcasting Corporation radio station called AAHS. Any time one of the songs from the Aladdin soundtrack came on, my elder brother Andre would bolt to the radio and press the record button on a blank cassette he'd pre-loaded. We obtained the sheet music for "A Whole New World" and practiced it religiously until we'd mastered playing it on the piano while singing along. Andre was Aladdin, and I – of course – was Jasmine. My younger brother John Paul chimed in whenever we generously allowed it.
We hunted down the movie paraphernalia: everything from the official movie poster to toy figurines. We viewed the VHS tape dozens of times, so smitten with Robin Williams' humorous lines as Genie that we could repeat them from memory. I drew Jasmine, complete with her beautiful two-piece turquoise costume, gold head band, jet black mane, and kohl-lined almond-shaped eyes over and over again until it resembled a professional rendition.
I'm telling you, we were obsessed. And though that obsession has naturally dimmed over the 27 years since the movie's release, it was immediately restored and amplified upon watching the 2019 remake that debuted yesterday across cinemas worldwide.
Director Guy Ritchie brings to life the animated classic in a way I never could have foreseen. The resplendent costumes; the colorful marketplace built from the ground up; the enjoyable acting delivered by Will Smith as Genie, Mena Massoud as Aladdin, and Naomi Scott as Jasmine; and the mostly true-to-original plotline adapted to our era all combine to make this a movie you'll want to watch over and over again.
(Photo credit: Walt Disney Studios)
As much as I'd love to sit here and wax poetic, which could perpetuate for hours on end, I'll quickly highlight what I loved about the new Disney musical. Jasmine receives heightened importance as someone who is sharp, strategic, and visionary, capable of inheriting the throne from her sultan father, rather than merely playing a damsel in distress awaiting her prince charming to take the reins. Her two solos spell out that fempire flair and remind us that women as much as men can freely pursue power and ambition.
Mena Massoud, a 20-something Egyptian-Canadian actor whose tamed black hair and dark complexion will leave every girl swooning in her seat, plays Aladdin perfectly (and yes, I'm now following him on Instagram!). He is at once confident and self-doubting, but with Genie in his corner and his breathtaking dance moves, the audience is quick to empathize with his plight. British actress Naomi Scott takes on the role of Jasmine, and she is ravishing in every category. The on-screen chemistry between her and Massoud is unquestionable, boosting the movie's appeal. I don't think anyone could more effortlessly pull off the Genie than Will Smith, and he is absolutely in his element, with the humorous lines, the clever antics, and even some dance coaching reminiscent of the movie "Hitch".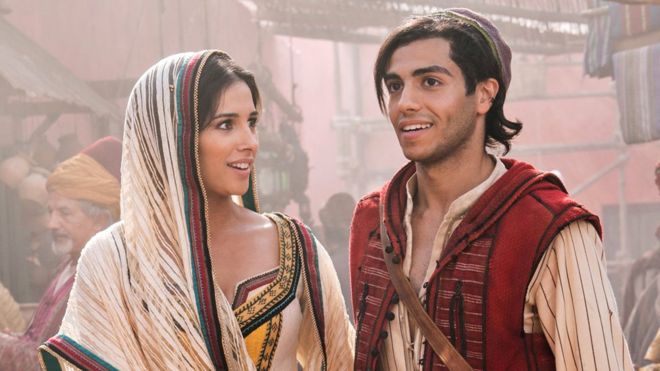 Jasmine (Naomi Scott) and Aladdin (Mena Massoud) (Photo credit: Walt Disney Studios)
I'll curb the review here, because I'm sure you're all itching to go watch the movie and reading this is merely consuming precious time. But I will urge you to linger through the closing credits, because you'll be treated to some energetic beats by The Will paired with Palestinian-American DJ Khaled. Arguably, it's the best number of the movie, leaving you wishing the producers had exploited the '90s rap icon a little bit more, given his background in Middle Eastern and hip-hop musical influences.
Ah, well. Maybe our grandkids will see another remake. And if I'm still around, you bet your magic lamps and carpets that I'll be first to line up to watch it and sing along to those timeless tracks.