Holiday Wine Guide: Top Ten Bottles Under $20 at Wesley's Wholesale
December is here, promising good cheer, which means we are officially in holiday mode! That translates to lavish tables of good food, chilly weather, Christmas soundtracks on playback, and of course, loving, smothering family. Whether you deem the foregoing in a positive or not so positive light, the great news is I have just the party favor – or antidote – to make it all magical. And wine not!
Indeed, there's nothing like that bittersweet grape elixir to render the holidays – or any occasion, for that matter – a shade more festive, forgiving, and frolicky. Rich white wines, big spicy reds, fruity finishes, oaky flavors, vanilla bouquets: The vast world of wine may not be particularly easy to fathom, but it washes down without a hitch. And a bottle makes a perfect dinner party gift, or an invitation to cozy up on the couch while consuming corny Christmas romances on Netflix.
Which labels, you inquire? Let's make this a pocket-friendly roundup, because most of us find ourselves strapped for cash around the holidays. Here's a list of ten wines, both imported and Lebanese, priced under $20 at Wesley's Wholesale in Hazmieh, on the gourmet floor Orange Label. Don't forget to ask for your free reusable wine pourer to prevent those irksome drips down the side of the bottle. Because we all deserve to pull off "connoisseur," right?
Visit the chilled wine cellar at Wesley's Wholesale in Hazmieh on the Orange Label floor
Imported Labels
Kirkland Signature Rioja 2012, Spain (18,000 LBP).

If you want a totally drinkable everyday red, this is it, and for $12, there's little to criticize. The wine pours dark with light aromas of earth, oak and spice. In the mouth, it is medium in body, softening tannins from three years in the barrel. Flavors are mostly red fruits, cherry, plum, some raisin, and a touch of anise. The finish is super dry. It would be wise to decant this wine for about an hour, because a little air really allows it to shine through.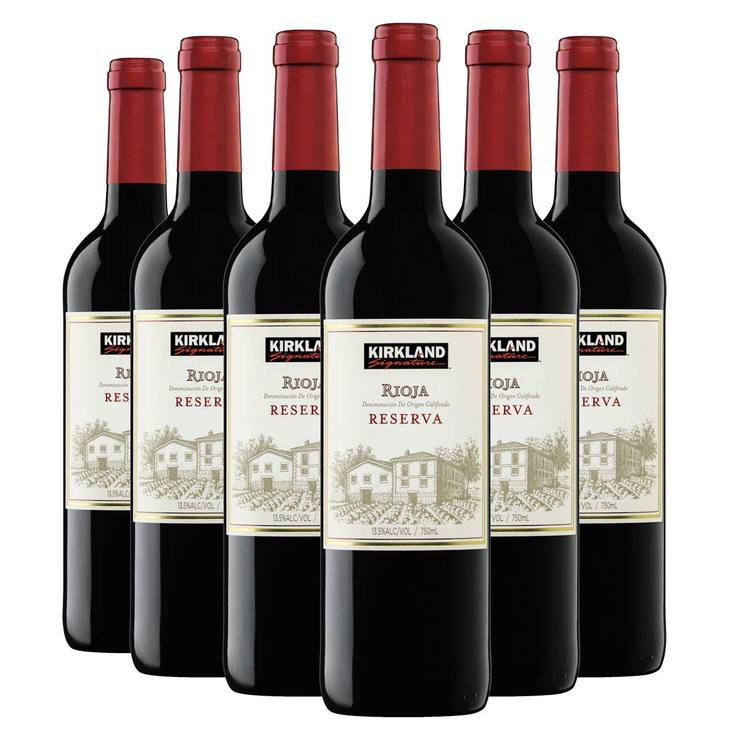 This Rioja Reserva is an elegant wine made from 100% Tempranillo grapes grown in the region of Rioja, Spain (photo source: costco.co.uk)
Baron de Ley 2013 Rioja Reserva, Spain (27,000 LBP). Here's a second wine hailing from Rioja, Spain's flagship wine region, home to more than 600 wineries. Rioja's unique geographic location along the banks of the river Ebro makes it conducive to wine production, with the surrounding mountains moderating both the cooling effects of the Atlantic and the intense heat of the Mediterranean. Baron de Ley Rioja Reserva is made in an assertive style, with soft strawberry fruit flavors and nuances of spice from 20 months of ageing. It fetched the Best Value Red in the Wines from Spain Awards in 2014.
Barefoot White Zinfandel, United States (15,000 LBP). White Zinfandel is a slightly sweet wine made from the red-skinned Zinfandel grape. Discovered in 1972 by Napa Valley's Sutter Home, it owes its rosy pink color to the grape skins after they are crushed and quickly removed from the juice. The remaining process is the same as for white wine. Packed with the refreshing, fruity flavors of sun-kissed strawberries, juicy pears, sugar-sweet pineapple, and Georgia peaches, Barefoot White Zinfandel will leave you begging for another sip. More enjoyable over ice, the White Zinfandel is the perfect pairing for fresh fruits, smooth cheeses, and seafood feasts you encounter this holiday.
White Zinfandel is made from the Zinfandel wine grape, which would otherwise produce a bold and spicy red wine. White Zinfandel is not a grape variety but a method of processing Zinfandel grapes (photo source: barefootwine.com)
Wolf Blass 2016 Cabernet Sauvignon, Australia (29,000 LBP). A crash course on Cabernet Sauvignon: it partners well with red meats, hearty pasta dishes, Cheddar cheese, broccoli, fennel, rosemary and mint. Savor it with chargrilled steak or a heart-warming beef Stroganoff. Wolf Blass' Cab is a smooth red wine evocative of dark plum, blackberry and cassis, with a hint of leafy character adding freshness to the palate. A subtle savory oak lends a long, structured finish.
Daou 2015 Chardonnay, United States (38,000 LBP 28,500 LBP on sale). Daou vineyards in Paso Robles, California, are the brainchild of Lebanese-American brothers Georges and Daniel. But don't let a fellow Lebanese like me bias you. Here's what the experts have to say: "A fragrant nose displays scintillating aromas of pineapple, Asian pear, vanilla crème, and toasted almonds, with notes of allspice and honeysuckle. The palate delivers flavors of white peach, casaba melon, and lemon zest, along with underlying tropical notes of banana, papaya, and pineapple. The finish is long and very clean, leaving lovely sensations of citrus and vanilla with just a hint of star jasmine" (Wine.com). Daou Reserves (Chardonnay and Cab) are also on sale throughout December.
Pictured is a bottle of Daou Chardonnay Reserves
Domaine de Chlifa 2012 Red Blend, Deir el Ahmar (14,500 LBP). The vineyards of Chlifa are located on an exceptional soil 1,000 meters above sea level on the eastern slope of Mount Lebanon. Domaine de Chlifa reflects a typical terroir of the Bekaa Valley, blending Cabernet Sauvignon and Syrah to produce well-rounded tannins. On the nose it is fruity with hints of raspberry and ripe fruit.
Domaine de Chlifa is a local wine made from a delicate blend of Cabernet Sauvignon and Syrah (photo source: 209lebanesewine.com)
Batroun Mountains 2016 Riesling, Batroun (25,000 LBP). Batroun Mountains is a family-owned and operated winery with vineyards located in the mountainous Batroun region of North Lebanon. Boasting an annual yield of 50,000 bottles from its 11-hectare fields, the winery spans six villages on altitudes from 400 to 1,500 meters above sea level. 2016 Riesling exhibits a combination of floral, white and yellow fruits like peach and pear and promises great ageing potential. Pair it with strong cheeses, seafood and sushi.
Sendiana 2013 Red Blend, Khenchara (24,000 LBP). A vibrant red wine with perfumed aromas of ripe blackberries and a hint of spice, Sendiana 2013 is fashioned from Cabernet Franc, Cabernet Sauvignon, Merlot, Mourvèdre, and Syrah grapes. The palate is wonderfully fresh and opulent, with flavors of cherry, cedar, rose and hints of vanilla. Its elegant structure balanced with a subtle mineral note landed it the International Wine & Spirit Competition (IWSC) Silver Medal in 2014.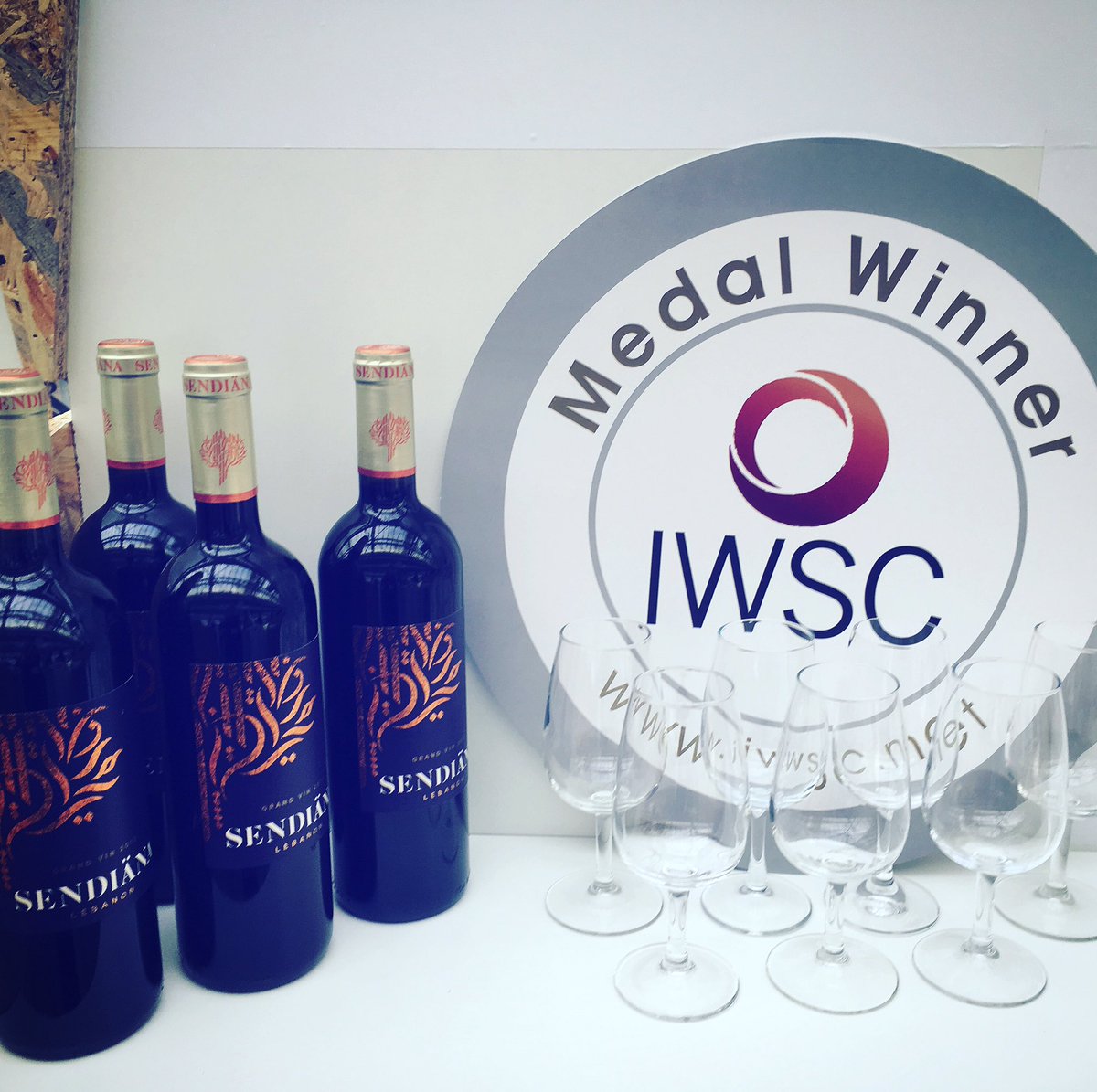 Sendiana, which produced its first wine in 2013, snatched the Silver Medal at the International Wine & Spirit Competition in 2014 (photo source: twitter.com/sendianawines)
Chateau Nabise Reserve 2009, Bhamdoun (24,000 LBP). You'll be enraptured with Chateau Nabise Reserve's ruby color and soft entry. This fully mature wine emanates from Cabernet Sauvignon, Merlot, and Syrah grapes. It combines sweet cassis and earthy flavors to deliver a powerful, long, pure and clean finish layered with chocolate and black cherries. How indulgent!
Chateau Heritage 2017 Blanc de Blancs, Qab Elias (12,000 LBP). In 1888, the Touma family established one of the first wineries and distilleries in Lebanon in the small town of Qab Elias of the Bekaa Valley. If you're familiar with the famous Arak Touma, it was the first product of the family's endeavors. Building upon the success, tradition, and experience reaped with their Arak Touma, the Heritage Winery was established and released its first modern wines in 1997. Blanc de Blancs 2017 captures a pale yellow color with silver reflections. A nose of lemon, pineapple and exotic fruits complements a fresh mouth both elegant and full. Serve between 8° and 12°C.
Chateau Heritage established its winery in 1997, while its Arak production dates back to 1888 (photo source: uvinum.co.uk)
Chateau Nakad 2014 Cuvée d'Alouette, Jdita – Bekaa (11,500 LBP). Chateau Nakad are acclaimed for producing wine, Arak, and artisanal liquor. Perhaps you've sampled their Afandello, crafted in the spirit of Limoncello but with afandi, or mandarin fruit. Back to the wine. The 2014 Cuvée d'Alouette is smooth and tight, chockfull of red fruit. Pleasant with a supple texture and soft tannins, it suits charcuterie, grilled Mediterranean fish and even fresh cheeses. And ringing in shy of $8, this is one wine bottle you definitely want to stock up on.
There you have it – 11 wines under 20 bucks worth toasting to this holiday season. Merry Christmas!
Beirutista is Brand Ambassador at Wesley's Wholesale. What exactly does that mean? Well, if you liked this post, you can look forward to similar ones every month or so. I'll be blogging about a variety of exciting new projects Wesley's has underway, in addition to sneak peeks and product leaks!